WHETHER IT'S A DEVASTATING FIRE . . .

OR A TERRIBLE FLOOD . . .

COMMERCIAL
OR RESIDENTIAL...

WE DELIVER QUALITY & SKILLFUL EXECUTION

CRAFTSMANSHIP FROM THE GROUND UP
Eagle Construction of Stockton, CA and EC Construction of Northern Nevada are a leading residential and commercial contractor providing a full schedule of renovation and reconstruction of damaged homes and commercial properties.
Eagle Construction in the news
December 15, 2012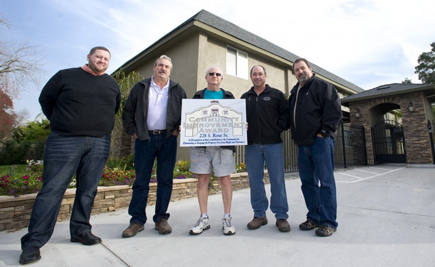 We are proud to announce that Eagle Construction recently received the city of Lodi's Community Improvement award! We couldn't be happier with the results and community awareness this has brought. Read the full story
Residential
Eagle Construction specializes in the renovation and reconstruction of damaged homes. We pride ourselves on the intense focus we place on the homeowner's needs and the absolute necessity to over achieve. Eagle Construction is the premier insurance restoration contractor in the Valley.
Commercial
Eagle Construction provides a full service approach to commercial projects. Our resumé includes over 400,000 sq. ft. of commercial office and warehouse construction in the last 5 years. Projects from small wineries, mixed use office warehouse, dairy projects and repairs have been successfully completed.
Service Locations
Eagle Construction- Sonora - Service Areas
18851 Microtronics Way #A-10
Sonora, CA 95370

Phone: (209) 466-5882
Fax: (209) 694-8093
Eagle Construction - Service Areas
628 N Windsor Ave
Stockton, CA 95205

Phone: 209.466.5882
Fax: 209.466.5885